Feng Shui bedroom decorating tips

Looking for Feng Shui bedroom decorating ideas? Here we are with some tips which help you to create a bedroom which helps to maintain balance in the space and creating peaceful and exciting ambiance around the place.


Feng Shui can be used to decorate any room of the house and when it comes to bedroom it become more essential as it is the place which required lots of positive energy to create a calm, nurturing, peaceful and exciting ambiance.


Feng Shui ideas for Bedroom

- To get Feng Shui bedroom first keep the television and computer out off your bedroom as these two elements are the biggest obstacle which destruct the passing of the positive energy in space. Before sleeping switched off all the unnecessary electronic equipment as Electromagnetic fields which are emitted from the electronic equipment cause disturbed sleep.

- Feng Shui Bedroom colors: Colors play a very important role in Feng Shui so paint the walls of the bedroom with pleasing and soothing colors which can lift your mood as you step in. Do not use bold and bright colors as it can hinder the passage of strong positive vibes. Use shades of greens, blues and violets to create perfect soothing atmosphere for peaceful sleep.

- Feng Shui Bedroom lighting: It is good to have natural light in bedroom but too much light can hinder the sleeping habits so adjust the amount of it by using dark blinds and heavy curtains. Fen Shui is all about the brighter aspects so lighting plays an important role to create perfect ambiance, it is good to use bright lights with dimmer switch. Overhead lighting pushes good energy out of the bed so it is good to use side table lamps to lighten your room as it allows good energy to move freely through the room. Use softer light as they are more relaxing and soothing making the transition from living a fast paced life to a peaceful night of rest.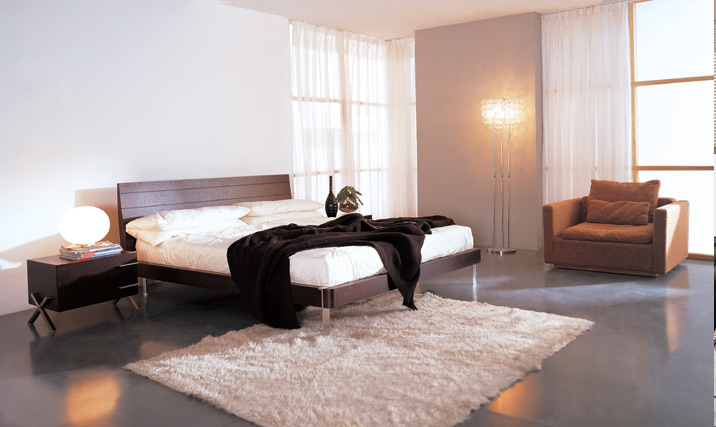 - Bedroom ceiling should be at low height as it provide a sense of security and safety into a bedroom. Paint the bedroom ceiling with light and soft colors in such a way that it does not overpower the color of decor such as bedding and window coverings.

- Feng Shui Location for bed is important aspect in Feng Shui, place the bed first followed by other furniture pieces placement. Try to place the bed in a way which makes it accessible from both sides. This allows oxygen (and Chi) to flow easily above and below while you sleep. Do not place the bed near the main doorway; bed headboard should be placed along a solid wall as it boosts sense of stability. It is not good to have beds under the beam if you cannot avoid then trail an ivy plant across a ceiling beam or paint them same color as ceiling to hide. Keep a short bookshelf or container at the base of your bed and do not place store-able items under the bed. Beds should be made of natural, breathing material like wood or bamboo.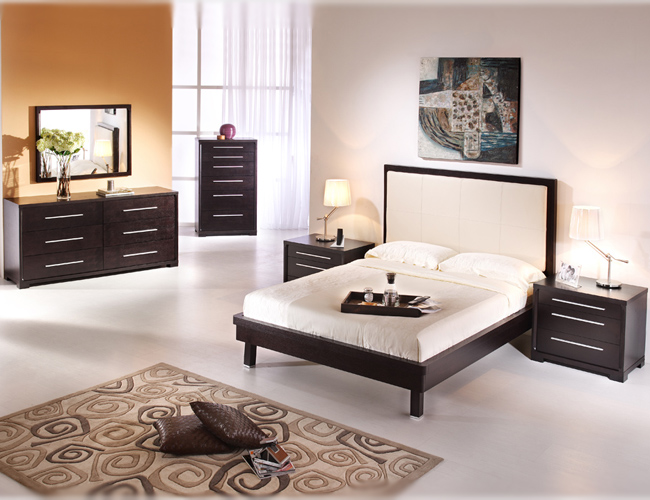 - Bed furnishing: A neat and clean furnishing is an added advantage for a good night sleep. Do not overcrowd the bed with so many pillows that it becomes difficult to actually get into it. Bed sheet and covers should be soft and have light colors. Keep the bed sheets designs simple; do not get animal prints bed sheets for your bedroom.

- Bedroom Furniture: Furniture placement in Feng Shui is a key element in directing the flow of Chi. Bedroom does not require large number of furniture a bed, pair of chair, bed side tables, dressing table and a closet or wardrobe is enough in bedroom. There should be at least three feet of space between furniture. Leave the centre space of the room empty.

- Feng Shui accessories for Bedroom: Place candles, awards and other red orange and purple colored items in the South side of the bedroom to bring fame and pink colored items, round or oval mirrors and paired objects in the Southeast direction of the room to add romance in your bedroom. You can use Buddha statues, lucky bamboos and bagua pendants for bedroom decor. Romantic artwork with flowers, birds and anything in pairs can help to bring romance in bedroom.



A neat and clean bedroom is the first requirement of sound sleep so keep your bedroom clutter free; remove your shoes and sleepers before entering the bedroom. Do not overcrowd your bedroom with unnecessary items keep it simple and hassle free. Remember a bedroom is a place to relax, and rejuvenate not a place for work or other stress related activities so an eye soothing decor is the only necessary additions to your beloved sanctuary.