How to Brighten Up Your Rooms with Wall Friendly Stickers

Looking for some very unique and inexpensive wall decor ideas? Wall Friendly Decals/Stickers are the best way to do that. Here we are with some Wall Friendly Decals/Stickers ideas which you can use to decorate the walls of an office, a home, a restaurant or any place where you want to enjoy the feeling of good art work.


Wall decoration become an essential part of interior decoration, now a day's people just do not want to hang the photos of their loved one on walls but need something more to cover the walls in a beautiful and modern way and to fulfill their wish many ideas are released and invented almost on a daily basis and Wall Friendly Decals/Stickers are one of them.

Wall decals are know by many names like wall sticker, wall tattoo, or wall vinyl which are used to decorate the walls of any space. It is the best way to decorate the walls with wall murals or wall decals but there some factors which should be considered when you choose a design for the wall décor like always choose a wall keeping the purpose of room or place in mind like wall decals that have fruits and vegetables are suitable for kitchen not for bedroom similarly wall murals with flowers and trees are suitable for home not for offices. Always keep in mind the other interior elements of the rooms before picking the Wall Friendly Decals/Stickers for any space. Wall stickers are the best way to change the look of your home instantly. Using Wall Friendly Decals/Stickers is the unique wall decoration idea which takes minutes to give the final output which is simply amazing.





Bedroom wall Decals/Stickers: These beautiful wall stickers are perfect for bedroom as they give the feel of elegance as well as add style to your bedroom walls. The black wall sticker over the bed headboard is the best to add some detail to simple headboard without investing much where as white flower pattern on black base can never go wrong install this beautiful wall decal on the wall behind the bed and see how it change the overall look of your bedroom. Beautiful bubbles wall stickers are perfect for modern bedroom decoration. You can also get customize bedroom wall stickers according to your wall colors, room size and requirement.





Kids room wall Decals/Stickers: Kids room is the most cheerful room of any home, but it is also very difficult to decorate the walls of kids room as they have their own fantasy which change time to time and for us it is not possible to change the wall decoration or colors so frequently, wall stickers is the option which you can use to décor kids room walls. Dinosaurs are favorite animal of most of the kids so use the above dinosaurs' wall stickers to decorate kid's room walls and see the joy on your face. Colourful train wagon Wall Decal can be applied anywhere in the room where the kid would enjoy seeing it. For little big kids Children on swing Wall Decal is perfect to bring them close to the nature and fun filled activities. You can replace these wall stickers very easily and paste new when your kids become bore from the old one.





Living room Wall Decals/Stickers: Living room is the place where you enjoy the most with your friends and family and well decorated walls can enhance the pleasure of joy. There are lots of wall stickers which you can use to décor living room walls like this Horse and Sun Wall Decal or the Pink Flower wall decal will bring nature in your room. You can also use these beautiful Flower Garland stickers to make the living room walls more beautiful and lively.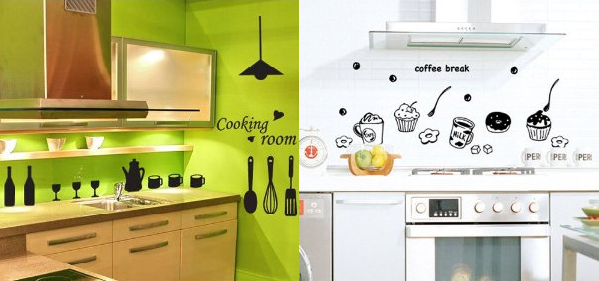 Wall Decals/Stickers for kitchen: Kitchen is the most busiest place of the home, usually we think that kitchen walls do not need any décor but think once again as our beautiful wall stickers are enough to change your mind. These kitchen wall stickers can be place on any wall of the kitchen to enhance the overall ambience of the kitchen to make it more colorful and interesting.





Wall Decals/Stickers for bathroom: Bathroom walls also need décor elements to look more beautiful and refreshing and the wall stickers are best to bring new life in dull and boring walls of the bathroom. You can install wall stickers on tiles or walls of the bathroom very easily.



So hope you get lots of ideas and designs to brighten up your walls with Wall Friendly Decals/Stickers, these are easy to install, remove or clean and much cheaper than the wallpapers and other wall décor elements such as textured paints which need lot of care and cannot be replace easily.

You can buy any of the above wall stickers and lots more from junglee.com online