Top 10 Prefabricated House Manufacturers In India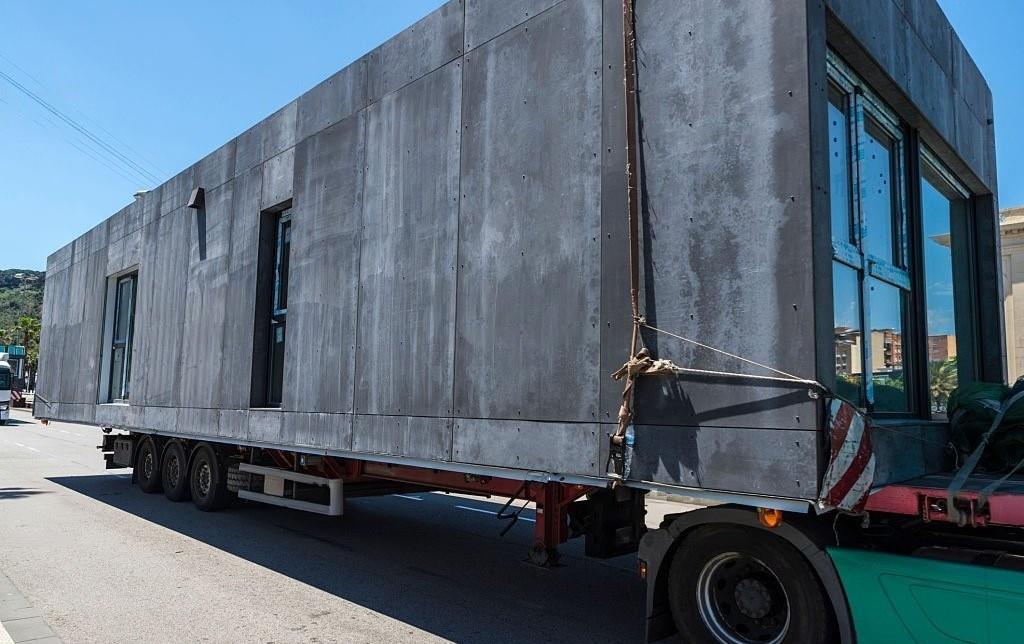 Discover the leading prefab house manufacturers in India with our list of the top 10. Explore innovative solutions in modern housing and find your ideal prefab home builder.


In India, prefabricated housing has become extremely popular because of how quickly and efficiently it can be built. Here are the top 10 prefabricated home producers in India, each renowned for their quality, innovation, and dedication to providing affordable, sustainable housing options. Lets take a look at the best prefabricated building manufacturer in India
I. Pressmach Infrastructure Pvt Ltd: With almost 30 years of experience providing interior design and pre-built structural solutions, Pressmach is a pioneer in the field of prefabricated structures and quick civil construction. Since its founding in 1993, Pressmach has successfully executed more than 4,000 contracts for a wide range of clients in the Indian and global markets.
Contact details:


Phone: +919884085511


Email: contacts@pressmach.com


Address: Plot No. 21, 1st Link Street, Nehru Nagar, Kottivakkam, Chennai, TN 600041 IN.


II. Alpha Enterprises: They are a renowned market leader, with twenty-five years of exceptional performance and steadfast commitment to its clientele. They meet a variety of construction needs, from offices and labour camps to commercial work modules and residential villas. Their wide variety of prefabricated products, which showcases their dedication to perfection, includes restrooms, office cabins, security cabins, bunk homes, farmhouses, kiosks, toll booths, ATM rooms, and custom cabins.
Contact details:


Address: Alpha Enterprises, village, madhuvanthangal, Ezhichur, Tamil Nadu, India


Email: sales@alphachen.com


Phone: +91 - 9094048568


III. Vnext: Vnext is committed to a sustainable future, recognizing the finite nature of our Earth's resources. They provide a variety of fire, water, and termite-resistant fibre cement boards that are also environmentally friendly, providing unmatched quality, style, and longevity. These boards are the best option for both indoor and external applications like panelling, cladding, dividers, and more because they are made to last for more than 50 years. The environmentally friendly solutions from Vnext provide a long-lasting and secure living solution.
Contact details:


Phone: +91 88867 86398


Email: vnext@visaka.in


Address: Visaka Towers, 1-8-303/69/3, Sardar Patel Rd, Begumpet, Secunderabad, Telangana 500003


IV. Orchid Enterprises: Orchid Enterprises was established in 2003 and has since established a solid reputation for providing high-quality goods and services in the fields of insulated panels, prefabricated homes, security cabins, cold storage solutions, office containers, industrial sheds, PUF cold room doors, and acoustical rooms. Their knowledgeable team of professionals, which has its main office in Chennai, is fully committed to providing the highest levels of quality and client satisfaction in all areas of business operations.
Contact details:


Phone: +91 94440 31264


Email: orchidprefab@gmail.com


Address: #410, Chelliamman Street, Manjambakkam (Near Agarsen College), Madhavaram, Chennai-600060.


V. BACE India: BACE India is a full-service provider of construction solutions, providing services that are seamlessly integrated. BACE India stands out as the only producer of Glass Fibre Reinforced Gypsum (GFRG) Panels in the nation and does business as an EPC (Engineering, Procurement, and Construction) contractor and a flexible construction firm.
Contact details:


Phone: +91 422 2574645


Email: info@baceindia.com


Address: 6, George Town, Nanjappa Nagar Extension, Singanallur, Trichy Road, Coimbatore – 641005


VI. Metal Art: Metal Art has established itself as a leading producer of a particular range of construction-related goods. Their product line consists of Portable Houses, Security Cabins, Shipping Containers, Construction Site Cabins and containers, and Portable Toilets. These goods are produced utilising premium components and cutting-edge machinery under the supervision of qualified experts who strictly follow international quality standards. When it comes to offering these specialised construction solutions, Metal Art has earned a reputation for quality.
Contact details:


Phone: +91 8047644017


Address: Narol Sarkhej Road, Nr. Gujarat Travels, Opp Shrinath Travels, Piplaj Road, Gujarat, India.


VII. Padmadhara Structure: Padmadhara Structures Private Limited is an emerging entity excelling in the provision of fabrication services and top-tier products, including Steel Prefab Truss Roofing Sheds, MS Structural Sheds, and Industrial Roof Sheds, among others. They have established themselves as a prestigious manufacturer, supplier, and service provider in a comparatively short period of time, carving out a remarkable niche in the market. Their vast choice of industrial solutions, which they offer, including Industrial Shed Fabrications, MS Structural Sheds, and Industrial Roof Sheds, reflects their dedication to perfection.
Contact details:


Phone: +91 8037747348


Address: Plot No. - 135, Por Industrial Park, B.h. Sahyog Hotel, N.H.-8, Por,Vadodara-391243,Gujarat


VIII. Habi Nest: HabiNest, a product of Nest-In by Tata Steel, presents a unique Light Gauge Steel Frame (LGSF) solution. With the ability to build structures up to G+3 storeys, it is suited for a variety of uses including industrial facilities, residential complexes, offices, schools, hospitals, and more. Construction of HabiNest structures takes a great deal less time than conventional construction, providing greater usable space. They offer a reliable and low-maintenance solution and are especially suited for difficult terrain and disaster-prone areas.
Contact details:


Phone: 1800 208 8200


Email: support.nestin@tatasteel.com


Address: Tata Centre, 43 Jawaharlal Nehru Road, Kolkata – 700071


IX. Epack: EPACK Prefab, founded in 1999 in the strategic location of Greater Noida, proudly holds ISO 9001-2015 and ISO 14001:2015 certifications. Leading in engineering, fabrication, and project management, EPACK Prefab provides a complete pre-engineered building solution to a range of sectors. Along with pre-engineered steel buildings, EPACK Prefab also has cutting-edge production capabilities for cold roll-formed sections, which come in a wide range of complicated profiles.
Contact details:


Phone: +91-8130444466


Email: enquiry@epack.in


Address: Flat No - 401, New Mark House, Patrika Nagar, Road No 4, Madhapur, Near Medicover Hospital, Hyderabad, Telangana – 500081


X. Speed 4: Established in 2008 in Thane, Maharashtra, India, Speed 4 Prefab Solutions Private Limited is a premier producer and supplier of various prefab solutions. Their product line comprises, among other things, Bunk Houses, Container Offices, Labour Camps, Mobile Cabins, Modular Buildings, Porta Cabins, Portable Toilets, Prefab Structures, Site Cabins and Warehouses. They also provide Cool Moulder Systems and Glass Reinforced Polymer. They have made a name for themselves as a major participant in the sector.
Contact details:


Phone: 022 2874 6200


Email: info@speed-4.com


Address: 501, Pratik Plaza, opposite Patel petrol pump, Swami Vivekananda Rd, Goregaon West, Mumbai, Maharashtra 400062