Vastu guidelines for bedroom

Facing non ending problems in your life and cannot sleep soundly in-spite of every facility in your bedroom than it might be possible that your bedroom is placed in the wrong direction or you are sleeping in an unsuspicious side. In this article on Vastu tips for Master Bedroom to find the solution of your problems, just follow these tips and see remarkable changes in your life.


Vastu Shastra is an ancient science that is used to make the house safe and prosperous. It supports your success in all areas of life. In this article we discuss about the Vastu tips for Bedroom.

Bedroom is the place where you go after the all day activity for taking rest and to sleep to get rid of your all tiredness and worry so it should be calm and free from all negative energy. The energy of the bedroom must be spread thoroughly towards each corner as it is a place where we spend more time than in any other room of the home.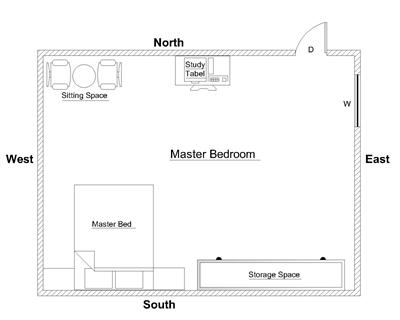 Location of Bedroom: Location of the bedroom is an important factor, according to Vastu Shastra the master bedroom of the house must be in south direction as this direction provides the home with peacefulness and prosperity.

Location of Bed in bedroom: If your bedroom is already constructed in any other direction and cannot be changed then try to place your bed in such way that at the time of sleeping your head must be in south direction. Never keep your feet in south direction as it is not believed auspicious

Location of door and windows in master bedroom: The door of the bedroom should be in the East or the North and must open fully at least ninety degrees to fully allow positive vibrations and fresh air flow to you. Do not use the doors which makes lot of noise while opening and closing. Windows in the East and North of the room are beneficial, check that there should be no window behind the bed as it can disturb your sleep a lot.


How to choose right accessories and furniture for bedroom

- Do not use the pictures or accessories to decorate your room which bring negative energy try to put a photograph of your loved ones (avoid placing the divine idols), a favorite quote, a painting or sculpture (avoid sceneries depicting sorrow or waterfall, even flowers which bring positive energy in your life.

- Do not put any mirror or aquarium in your room as it might bring conflicts in the relationship.

Furniture location in bedroom
- Use Heavy furniture in your bedroom like beds, cupboards etc. Place the cupboard in the bedroom at South, West or Southwest(nairuthi). If possible, avoid beds in the centre of the room.

- If possible than avoid Television in bedroom as it disturb the sleep, in case you want to put the TV in your bedroom than then start covering it with a plastic cover only.

Color scheme for master bedroom
- According to Vastu try to paint your room with light shades of rose, blue and green as these colors will soothes your eyes and the room will also look big and spacious. Do not use black and red color in bedroom.

Flooring for master bedroom
- Keep the bed room flooring higher than all the other rooms, so that the owner of the house will enjoy the standardization. At night it is advisable to keep a light burning.


General Vastu tips to decorate bedroom

- Do not remove your shoes or sandals in the bedroom always keep them out of your bedroom.

- Always put your right feet on the ground first on rising from the bed that will bring prosperity and good health to you.



- Remove unnecessary things or objects from the bedroom. All the furniture and other accessories must be arranged properly with enough space around each article, it makes the cleaning easy as well as look good. Remove everything from under your bed keep the space free from any clutter.

Use these Vastu tips for Bedroom and see the remarkable changes in your bedroom and in your life also. You can enjoy a life without any tension and mental disorders if you use these small tips for your bedroom.