How to make Small Bathroom Look and Feel Larger

Looking for Small space bathroom solutions? Read the following article for Small space bathroom designs & ideas to get a comfortable,beautiful and stylish bathroom without expanding it as our interior experts will provide you some simple and easy tips for small bathroom design & decoration and more.


How to make Small Bathroom Look and Feel Larger? We are sure everyone wants to learn about this as in today scenario when the size of living space is shrinking day by day we focus on the bedroom or living room size and in the process the bathroom is a bit neglected. But it does not mean that small bathroom should look ugly or unorganized by any means. You can also turn your small space bathroom into a comfortable and luxurious as any spacious one.




How to choose colors for small space bathrooms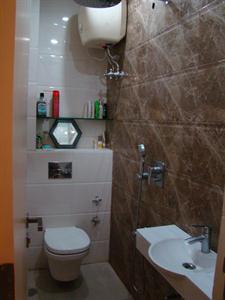 Light colors give a larger and neat look to your bathroom. It is good to use light-colored glazed tiles for your bathroom walls, which can reflect the light and the bathroom appears spacious. It is good to use tiles in your bathroom upto ceiling height. Paint the ceiling of your bathroom with light colors preferably the white. For small space bathroom use light color flooring, tile flooring is a good option as it is easy to maintain and give a spacious look to your bathroom but do not use glazed tiles as it can make the floor slippery.


Small Space Bathroom Storage Solutions

Every bathroom has some storage requirements like you need a place to store toiletries, towels, bathrobes, brushes, combs, hair dryers, toilet papers and cleaning material. You can opt for the storage units from floor to ceiling. Create wall recesses to store bathroom necessities. Do not forget to utilize the corner spaces in small space bathrooms for Bathroom storage. Use rounded stone or glass slabs to get open storage or small corner cabinets in these corners and save the space. Use the space under the wash basin by making cabinets to get some extra storage (like to put dustbin, mobs, cleaning agent etc.).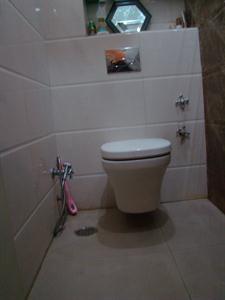 Basins and WC for Small Space Bathroom

Basins used in bathroom should be deep enough from front to back so that you can bend over it comfortably for hair and face washing. It is good to choose circular wash basins for your bathroom as it saves space and can be fitted in corner also. You can mount washbasin in the recess of walls and fix waste water pipe of washbasin into the wall also which also helpful to save space and also look neat and tidy. Choose wall mounted WC model with concealed cistern which make the floors easier to clean and also save space as both the things are fitted in the wall. Choose dual flush cistern as these are useful to save water.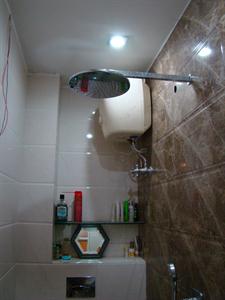 Lighting tips for small space bathroom
With the right kind of lights you can give a whole new look to your bathroom. In small space bathroom avoid too much to light and also positioned them in a way that they do not cast dark shadows in the corners or around furniture or fixtures as it not only will make the room less cheerful but also make it feel smaller. It is good to use ceiling lights for small space bathrooms instead of wall mounted lights and fixtures. These ceiling lights will light up your whole bathroom and also looks beautiful. It is good to take advantage of Natural Light as much as you can.


Ventilation ideas for small space bathrooms

Bathroom ventilation is very essential for good health especially in case of internal and small space bathroom; ventilation solutions can become a problem. We can get bathroom ventilation by two ways either by windows or by mechanical ventilation system. Exhaust fan are the good options for small space bathroom ventilation. You can use ceiling mounted exhaust fans for your bathroom as these are installed in ceiling and remove all bad odor or smell outside the room. Inline Exhaust Fans are also a good option for small space bathroom especially when you do not have space for ventilation system. If you live in an apartment or flat and does not own terrace than use wall or ceiling mounted exhaust fans which can throw musty air outside the room through a duct which can open in your balcony.

Last but not the least do not forget to remove unwanted articles or objects from your bathroom.