Home remedies to get rid of Bed Bugs naturally

Looking for home remedies to get rid of bed bugs? Here we are with some Home remedies to get rid of Bed Bugs naturally and How to Kill Bed Bugs with Stuff at Home. We are sure that the below mentioned natural remedies to get rid of Bed Bugs will help you if you apply them wisely and at regular intervals of time.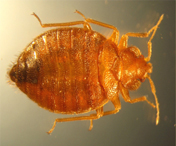 It is very difficult to get rid of bed bugs as these small microscopic sized organisms can live anywhere under any climate conditions. You can find bed bugs all over the world; they hide inside the bed mattress and bite you whenever you sit or lie on the bed. You can also find bed bugs in furniture pieces, clothing, carpets, cracks, holes and other things. Bed bugs can live without feed for more than one year so you can also find them in unoccupied rooms.
To get rid of bed bugs is strenuous task; in most of the cases we have to take professional help to get rid of bed bugs but before that try some simple home remedies to get rid of these pests.


Tips to get rid of Bed Bugs

Whenever you try any home remedy to get rid of bed bugs, it is necessary to apply it time to time to get remove these little monsters completely.

- Vacuum Cleaning and Heat Treatment can be a method to remove bed bugs as they cannot survive in more than 113 degrees Fahrenheit temperature. So it good to use any extreme heat to get rid of them like vacuum cleaner or any one of the hot steam cleaning equipment. Vacuum clean your mattress, carpet, cushions, pillows and any other space where you think these monsters can hide. Place the infected clothes and mattresses on terrace or any other open place under sunshine or dhoop twice in a month; it is very simple and easy method to get rid of bed bugs in India.

- Bed bugs cannot survive in very low temperatures so you can use cold treatment to remove bed bugs. Leave the infected clothes outside in winter season or wash them with ice cold water or soak them in an ice tub until it the ice melts.

- Wash or changes the bed clothing frequently, does not wait till they look dirty just change them after 2-3 days. Use light weight bed sheets and clothing so you do not feel lazy to change them as these are easy to wash and dry quickly.

- Do not leave your mattresses bare; cover them with mattress casings or covers as Bed bugs cannot penetrate through any kind of material. You can also wrap your mattress in plastic to prevent the bed bugs from entering deeper.

- Good hygienic conditions can also help to get rid of bed bugs. It is good to sanitize the house completely including furniture, clothes and mattresses to get rid of bed bugs completely and keep your surroundings clean




Natural Remedies to Get Rid of Bed Bugs

- To get rid of bed bugs use Neem leaves (Azadirachta indica) as they have antibacterial and antimicrobial properties, pluck fresh neem leaves and spread them on the mattresses, upholstery and anything else where you think bed bugs can hide. Place the neem leaves under the beds and sofa sets too. Once the neem leaves get dry replace them with fresh leaves. Boil some neem leaves in water and soak all the infected clothes in this water until it becomes cold and wash these clothes with detergent in hot water.

- Use Herbal Oil Spray made up of lavender, thyme, tea tree, or eucalyptus available in the market to get rid of bed bug problems. Just spray them on bed linens and other clothes where people sleep in the house.

- Use Food-Grade Diatomaceous Earth as it works as a repellent for bed bugs.

- Spread Boric Acid at places where bed bugs hide such as behind Wall fixtures, lamps and table-top lamps, Drawers and furniture, in Upholstered furniture, Wall-to-wall carpets and so on.