Top 5 Interior Furnishing companies in Kerala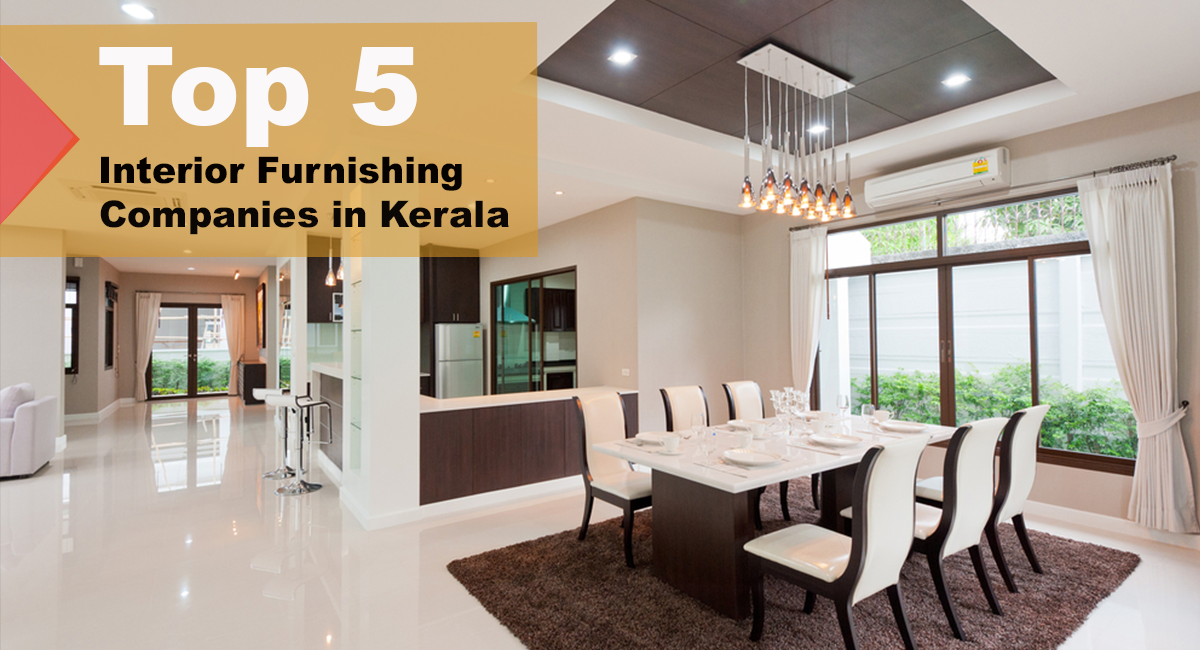 Interior designing one of the essential term for a home, and also the competitive field of architecture. This article tells about the top interior furnishing companies in Kerala, the services and the history of the top 5 interior designing companies in Kerala.


Everybody wants a home that is well designed; well planned; well kept and decorated to one's tastes. Everybody wants to come to a place that is welcoming, warm and makes him or her feel safe and happy. Generally, this job is done by the interior designers that breathe life into an otherwise lifeless construction and make the home out of it. Across the whole nation, the Kerala Houses are one of their own kinds and are very beautiful. This post comprises of the Top 5 Interior Furnishing companies in Kerala that have been making the Kerala Houses beautiful since ages and have always produced happy customers in the process. Top 5 Interior Furnishing companies in Kerala.


Allegra Designs

Allegra Designs is based in Kochi and one of the best Interior furnishing company in Kerala. The company has a team of highly competitive, creative and brilliant minds that can complete the installation in 30 days. All the projects come with a warranty of 10 years after the completion and the company itself has been setting trends in 2D and 3D designs recently. Allegra Designs has been in Business for more than 2 decades and thus is armed with an experience rich in every single element of interior designing.
Be it stylish bedrooms, kids rooms, offices, commercial buildings, custom-made modular kitchens, or any other place of your wish; Allegra Designs is well equipped to suit all kinds of requirements. Based on the reviews of its clients, the team at work is highly professional, adept at designing and can deliver the most beautiful and wonderful designs in the budget decided by the clients; which makes it the best interior designers in Kochi.


D'Life Interiors

With branches in various parts of Kerala (almost all the big cities), another name to be included in the list of the best interior designing companies in Kerala is the D'Life Interiors. The company can design the kids rooms, kitchens, dining rooms, and bedrooms etc. They don't design the official and commercial buildings and generally provide the residential interior services. The team at work is well equipped and expert.


Renjith Associates

Established in 2009 in Kochi, the Renjith Associates is also one of the best companies providing home interior designs. The team can be called outside Kerala as well. Apart from the interior designing, the other services provided by the Renjith Associates include 3D view, space planning, custom-made furniture, designer lamp making, fixtures material selection and plumbing layout planning etc.


Shilpakala Interiors

Another big name to be included in the list of the Top 5 Interior Furnishing companies in Kerala is the Shilpkala Interiors that provides wonderful office interior designs along with the residential ones. Located in Kochi, the Shilpkala Interiors has served more than 100 clients all of which have good reviews for them. You can avail premium as well as economical design solutions as per your budget and requirements. Another perk of hiring them for work is that they offer different kinds of packages to their clients depending on their budget.


Arena Interiors

Located in Cochin, the Arena Interiors provide good interior designing services for kitchens, bedroom, kids rooms, living room, wardrobes, bedrooms and dining area. They are also concerned with the home interior designs mostly; though they are available for office designing as well.
Apart from designing, they also provide décor items such as wallpaper, wall art, wall vinyl stickers, paintings, electrical fittings, décor mirrors, niches and ledges, blinds, carpets, and bedspreads etc.
Well, this completes the list of the Top 5 Interior Furnishing companies in Kerala. Hope you find one that suits your requirements.

Happy Designing..!!